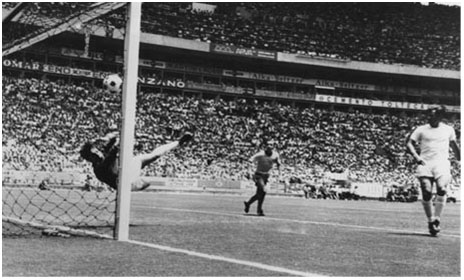 (www.bbc.co.uk)
Now that we have a government sorted out we can turn our focus to football and the World Cup. A recent caller to Talk Sport suggested "we should have Nick Clegg in goal for England as he's the only bloke who can turn left and right at the same time". As it happens Clegg's got himself another job so we're going to have to rely on Fabio Capello's choices of team instead.
Capello's 30-man provisional squad for the World Cup is now published. But his new commercial venture 'The Capello Index' was shut down as soon as it was launched, or at least postponed until after the tournament. The index would have provided data on all players within two hours of games finishing based on a statistical formula. His partner in the business Chicco Merighi is the founder of an online betting company. After a meeting with the FA however the Index has been delayed. A spokesman for Capello said ""Fabio Capello's involvement has been purely as a technical expert to establish statistical criteria for the Index. He has not been directly involved in the on-line gaming element of the site. However, he wants to ensure that all appropriate protocols are in place before the project proceeds and has therefore decided today to postpone it."
I'm not entirely sure what the "appropriate protocols" are, but the idea that your boss would publically rate you online after each performance is an interesting management technique. Imagine if you will an online rating system in the office where everyone can see what your boss thought of your performance in your last meeting.
It is not clear that this would be a motivating move and best not tried out on the England team this summer – they will have enough to put up with in the shape of sports commentators in the national media, the weight of national expectation and their own delicate egos.
Vineet Nayar is an evangelist for another kind of transparency in management technique – putting the welfare of your employees above your customers. The Chief Executive of Indian IT giant HCL he wants to destroy the cult of the CEO and the obsession with their omnipotence. The Sunday Times quotes him saying "CEOs behave as if they only care that they have a job and that's a disaster for society".
He believes that bosses should put their employees first and their customers second. He'd have Capello nurture the England players in effect in order to bring out the best in them. Invert the pyramid – managers are accountable to their staff. Nayar's own appraisal, which is open to all 55,000 staff, is published on HCL's intranet.
So now imagine an online rating system where you rate your boss publically. More motivating than the other way round?