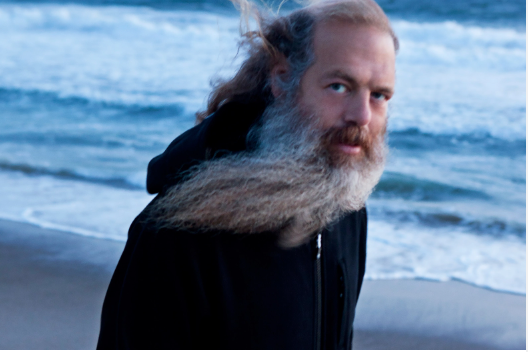 Rick Rubin is a legendary American music producer, co-founder with Russell Simmons of Def Jam, home to Beastie Boys, LL Cool J, Public Enemy and Run DMC.  According to MTV in 2007, he was the most important producer of the previous two decades.  He's also produced Red Hot Chilli Peppers getting them their breakthrough album, and his work with Johnny Cash repositioned him as an artist (not just a pop musician). JayZ's 99 problems?  Resolved by Rubin.
When Lauren Laverne interviewed him recently she noted that in the many pictures she had seen of him at work most don't show him at a mixing deck, but lying on a sofa with his shoes off, or meditating.
He replied that he has no technical skill at all. His technique revolves around listening, understanding what is going on in his body while he listens, and looking for the times when he feels something: laughter, joy, the instinct to lean forward. He then strips back the musical performance to reveal more of that aspect.
His first music credit therefore on LL Cool J's debut album, Radio was not as "producer" but as "reducer".
He doesn't follow the "rules" of recording technique. He looks for the essence, the truth, the rawness of emotion, and takes out the clutter that stops that shining through.
Listening and feeling don't always feel like legitimate work. Here's SlipKnot's lead singer on his view of Rubin's techniques from an interview published in The Ringer.
"Let me give you the fucking truth of it. Rick Rubin showed up for 45 minutes a week. Yeah. Rick Rubin would then, during that 45 minutes, lay on a couch, have a mic brought in next to his face so he wouldn't have to fucking move. I swear to God. And then he would be, like, 'Play it for me.' The engineer would play it. And he had shades on the whole time. Never mind the fact that there is no sun in the room. It's all dark. You just look like an asshole at that point. And he would just stroke his huge beard and try and get as much food out of it as he could. And he would go, 'Play it again.' And then he'd be, like, 'Stop! Do that over.'"
This is a creative technique that lifts good to great. When we make arguments to persuade and to sell our work we often rely predominantly on evidence and logic. Frequently we follow the rules of the category because to do so gives us credibility.
It takes bravery to know the rules, be expert in the category and then to follow a totally different path.
It takes courage to strip back work to the essence. Individuals often add arguments and proof points to give them confidence in the presentation and selling of work.
Adding logic, adding elements and feeling good with the list of evidence can give you comfort.
Listening, feeling, doing less and then stripping things back to their essence, that can give you greatness.