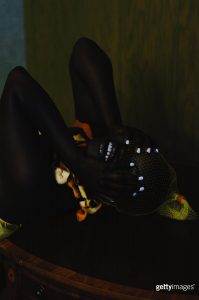 Image: Black Victorian by Stephanie Nnamani Getty Images
Some called 2017 the "year of women".  Time Magazine's person of the year was "The silence breakers", the thousands of people who blew the whistle on sexual harassment.   They didn't put thousands on the cover however.  Five women were represented in the cover photo, together with an arm, an anonymous arm.  (The sixth image of an elbow, belongs to an anonymous young hospital worker from Texas — a sexual harassment victim who fears that disclosing her identity would negatively impact her family. And the five on the cover are Taylor Swift, Ashley Judd, former Uber engineer Susan Fowler, lobbyist Adama Iwu, and Isabel Pascual, who is a strawberry picker and an immigrant from Mexico whose name was changed to protect her identity.)
In this so called "year of women" who took the cover photograph?  A team of two called Billy and Hells who are one man, one woman.  A good balance then.  Unlike many professional pictures.
A piece of research by Anna Fox, Professor of Photography at the University for the Creative Arts, Farnham, was published in 2016 said that under 5% of published and collected photographs are taken by women, and many commercial agencies' employees comprising around 2% women.  As we know 51% of the population is women and they make in the region of 80% of shopping decisions.  They're not missing from advertising imagery to that extent of course.  But those images will be taken largely by men.  It's a mismatch that surely no-one would expect these days.
Does it matter who takes the photo?  A panel that I participated in at Getty Images discussed this issue.  They recently ran a gorgeous exhibition at their London gallery called "The Female Gaze", of seventy images taken by women, mainly of women.
The inspiring Stephanie Nnamani, visual artist, points out that diversity of the people taking photographs is crucial to empowerment.  Even the selfie culture is "empowering, worth celebrating."  As she first came to photography she realised just how prominent the "objectification of women" was in a very celebrated photographer's work, and this inspired her in her career choice.
Why would the proportion of women behind the camera be so out of kilter, not just with the target audiences for most brands, but also with the numbers of women in photography classes in colleges?
It makes no sense at all. It is of course something that we can all try to influence if we are involved in the commissioning of work.  Does your process allow for a gender split of 50:50 when the photographer or director is being selected?  If the audience for the brand's marketing or advertising is at least 50% women, can this be ignored as a factor?
The panel believe (although perhaps you would expect them to) that it should not be ignored, and that the images taken by women of women are different, perhaps more authentic.
Given the ASA's conclusions about the depiction of women in advertising and the need for new guidelines, having more women behind the camera should help redress the balance to a new and more normal normal.