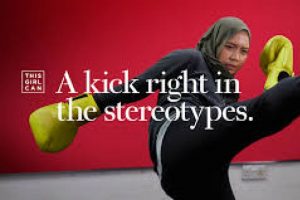 Who is using big data in the best way?
The shortlist has been published for the best use of big data for buying.  The Gold winner of the Media Week award 2017 in this category has just been announced.  The excellent shortlist demonstrates the range of applications for media buying:  reacting to the news; identifying snacking occasions; geo-targeting and colour matching, identification of lapsed exercisers.  MediaCom won by working with Spotify to target women with unused exercise playlists for Sport England's This Girl Can campaign.
For every brand there are endless possibilities.  In every case there's also a judgement to be made about the real return on marketing investment from precise targeting versus mass marketing.  Byron Sharp's Ehrenberg Bass Laws of Growth should be consulted.  Due diligence must be done on costs and consequences for the brand.
Outside of media buying, who is getting the most out of their use of data?
Google's CEO Sundar Pichai's declared objective is to transform the business from mobile first to AI first, making optimal use of algorithmic decision making.  They've just announced that their voice recognition software has been optimised to understand how children speak, thus perhaps bypassing generations who aren't "voice friendly" ie don't want to issue commands to their devices out loud.
Other businesses are (unsurprisingly) less further along the journey of making the most of data at scale.  In fact some aren't even seeing any return on their investment in data.
In Newvantage Partners' Big Data Executive Survey most businesses who are investing in big data are seeing some return, but are a long way from either transforming the business or establishing a true data driven culture.
The survey, published in October's HBR, covers c-suite executives at Fortune 1000 companies.  On a positive note, this is the first time since the survey began in 2012 that nearly half the respondents are positive about any measurable results.  The big wins for those companies are in cutting costs.  In terms of the other ambitions from big data, the majority say that they either haven't reaped any benefit from their efforts or haven't even started yet.  Adding revenue?  67% answered negatively.  Establishing a data driven culture?  42% have started and not realised any value.  31% haven't begun.  69% don't think they've speeded up any current practices through data.
The reason for detailing the results is not to provide comfort for those people who are big data haters.  Yes, you are right to think that big data does not provide the immediate answer to every question. However the gulf between companies like Google who are built on data and those who aren't gives clear advantages to the former.
On a positive note, despite the time it is taking for the full value of big data projects to be realised, 81% of respondents thought that the projects they worked on were a success.
And, cutting costs aside, the second most positive outcome is finding new innovation avenues.
Big data will transform our businesses.  We can and should set targets, goals and a clear vision for what success will look like and where innovation will deliver most value.  All transformation requires flexibility to be built into the process.  What looks like one obvious direction might require a pivot to deliver true value in the end.  Also of course, expecting a fully-fledged benefit before the full nature of the outcomes are clear is a fool's errand.  Even where progress seems slow and complex, it is crucial not to lose focus on transformation and jettison advantage.