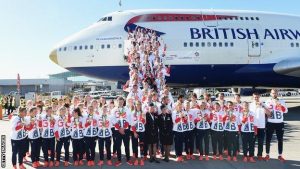 As we waved Team GB off on the way to Rio were you thinking what I was thinking?
"Good luck, hope you do well, but I don't really expect you to bring back as many medals as London 2012".
Team GB defied my expectations.  The best accumulation of medals in 108 years.  A spread of medals across more sports than any other nation.
Where academic studies have found that gdp and Olympic performance are inextricably linked (rich countries do better), GB punches significantly above its economic weight.
How did we do that?
Significant investment in sport, funded in part by the Lottery.
In terms of outcomes, the National Lottery money spent on sport seems money well spent.  In the first Olympics after the lottery launch (when the investment clearly hadn't had time to bear fruit) GB won just one gold medal in 1996.  This year's success shows exponential improvement.
It is perhaps a sign of the great British success that the haul isn't without criticism.  Outside the UK questions have been raised, and you might say that people have been quite rude.
Germany's Frankfurter Allgemeine newspaper ran a story questioning the success in cycling and stating that it has led rivals to wonder "if there isn't something fishy going on with the Brits".  Outrageous.
El Pais in Spain said that GB's pursuit of medals was "brutal and heartless".
Focussed certainly.
Sports with the best chance of medals get more investment.
Lesson one from the Olympic experience is that UK Sport have been calculated in their efforts to deliver step change.
They have supported areas of strength.  Any business that milks its strong brands or divisions in order to take a punt on step-changing areas of weakness (and supposed potential) should remember Team GB when the experiment doesn't pay off.
UK Sport's website features the #Discoveryourgold programme.
Any athlete can apply to be assessed for this programme, and success stories include Winter Olympics medal winner Lizzy Yarnold.  Lizzy applied for the UK Sport and EIS Talent ID campaign, Girls4Gold in 2008 having never tried Skeleton before. With the help of the World Class Coaches and Support Team, inside just five years Lizzy won gold in Sochi 2014.
So as well as focussing investment behind areas of strength, UK Sport have tried to broaden the talent pool, take people with no track record and make them champions.
Does this contrast with how the UK is doing at academic subjects at school?
Academically there's a huge talent problem.  This year's GCSE results have fallen again and thousands of teenagers will be faced with inadequate results in English and Maths.
We've spent 20 years finding and supporting talent in sport.  We've spent the last decade screwing up some people's potential academically.
Apprentice schemes such as the one we run at MediaCom scour the talent market place for individuals who have been failed by schools in one way or another.  The level of grit that some of the candidates have developed over the years is actually perfect preparation for a job in media.
The second lesson to learn from the UK Sport is to open up opportunities to everyone.  If you write people off who haven't performed against conventional benchmarks or followed the normal path to work then you end up with a company of people who can only perform conventionally.  In this media environment where change is the norm that's a dangerous place to be.