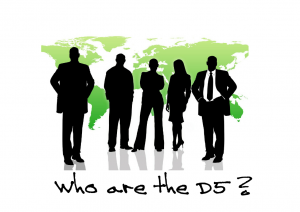 What links UK, Estonia, Israel, New Zealand and South Korea?
The clue I think lies in the latter country's digital reputation as these nations make up the D5, the most advanced digital governments countries in the world.  The Digital 5, is a network of leading digital governments with the goal of strengthening the digital economy. The members are bonded by the principle of openness; they are focused on changing government's relationship with technology.  Something to be proud of; that the UK is leading the charge in this area.  The advances evident from gov.uk are impressive and matter to all.  The relative ease of obtaining a driving licence or sorting out power of attorney from gov.uk sites really shows the success of GDS's mantra "the strategy is delivery".
In the small European nation Estonia government digital transactions are super fast and super simple. Admittedly there's only just over a million citizens.  If you're one of them your tax return will arrive pre filled in – all you have to do is check it and return it.  Anyone who's laboured over that annual ritual in the UK will appreciate that, and their government spokesman's statement that "We estimate that the average Estonian saves two weeks of time per year from avoiding paper-based workflows.".  I can believe it and I'd like those two weeks back too.
Francis Maude, champion of the UK Government's digital revolution tells the story of how and why Estonia is such a digital pioneer in government.  His equivalent in Estonia told him that significant disruption to heritage practices was really the only choice because when the Russians left post independence there was no legacy (because they took it with them) and no money.  Siim Sikkut is the Estonian Governments ICT policy advisor.  He says they've made departments comply by making it illegal for anyone to ask a single person for the same information twice:  "We like to keep things simple" .
Simplicity seems frequently in my experience to be sacrificed for the sake of belt and braces thoroughness.  Not just in filling in a tax return (that is definitely getting simpler) but in most aspects of the media industry.   All too often the more detail we've got available to us the more layers of complexity we add.  We build on our heritage with the new methods available to us rather than think radically about how to change everything.
It doesn't have to be this way, but it does require a change of approach in many cases.  Fortunately Adam Morgan (Eat Big Fish and Pirates Inside) now brings us a manual to force disruptive thinking.  It's called "A beautiful constraint" and it describes how scarcity can be a stimulus for creativity and for real change. We should all adopt the behaviours of necessity to force real progress.