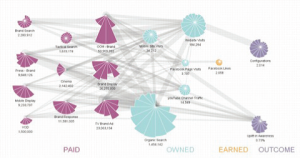 Can we stop with the nostalgia for what media used to be about please?
Some say: the art of the media agency used to be to find the perfect spot for a TV ad.  I say : this is targeting the right audience at the right time and in the right place and media agencies are doing more not less of it thanks to better data.
Some call for a restating of a media agency's purpose. I say: it is to communicate with the client's target audience to sell more stuff, or to change their behaviour.  Just as it always was, but with more ways of communicating, and better, faster judgements of what's working, and what isn't so we can course correct during a campaign instead of waiting weeks, or even months, for a post campaign analysis when it's too late.
At MediaCom we've just refreshed our planning process to ensure that we build the best possible connected plans for our clients.  Instead of planning in media silos, the crucial thing now is to plan the whole connected system of paid, owned and earned media, exploiting the second screen and the immediacy that mobile allows.
If in days of old the role of a media person was to find exactly the right spot for a one way communication from the advertiser, a bit like a message from the heavens, now their role is to deliver a connected communication system, fuelled by content (including, but not exclusively advertising) and measured by outcomes (final and intermediary measures of the clients kpis) not just inputs (coverage and frequency targets).
As an example, for last year's Home Office anti-violence to women and girls campaign we didn't just buy spots for advertising to reach as many teenagers as we could.  Instead we produced a connected plan that included associating with a storyline in HollyOaks, using talent from the show to run in specially commissioned ads than ran in the breaks that surrounded the show, with social media and extra editorial coverage that allowed commentary and dialogue with the teen audience.  We know we changed people's lives with this campaign – they told us and thanked us immediately and online.
This is a big change for agencies, and some won't find it easy.  But there's no reason at all for nostalgia in my opinion.  What we're doing now is better, and will get even better. We ain't seen nothing yet.