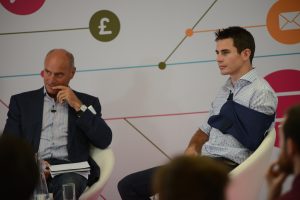 At our conference this week we heard case studies of two connected partnerships which truly use TV to its full advantage.
Both Iceland's sponsorship of I'm a celebrity and WKD's association with TOWIE make the most of ITV and every kind of second screen.
They also both had a massive impact on the trade relationships and employees.
Normally we consider a sponsorship's impact primarily on the target consumer for the brand.  But Nick Canning of Iceland pointed out the enormous benefit that the association with I'm a Celebrity has on staff morale (what could be better than a visit from Peter Andre) and at sales conferences.  A Bush Tucker trial for management at the conference can't be beaten.
The theme of the day, at South Bank Studios overlooking the River Thames, was about Connections.  Media doesn't work in silos, business doesn't work in silos, life doesn't work in silos.  We heard a number of speakers talk about the importance of connections professionally and personally.  And although the theme of the conference was about building better connections, working the whole system and not just each silo, a lot of the speakers talked about bravery, about authenticity and about growth.  As Nick Canning said "I believe you should never accept what you've got, always keep moving forward."
The most emotional moment of the morning (apart from watching Joey Essex watch himself walk on water), was hearing from Simon Daglish and Jaco Van Gass about walking to the North Pole.  Simon's charity Walking with the Wounded has not only raised money in a super connected way, but has also changed attitudes to the wounded.  Jaco, one of the heroes from the show, said "Life is 10% what happens to you and 90% how you deal with it".  Given how much Jaco has had to deal with from recovering from severe wounds to walking to the North Pole and climbing Everest, this was extremely motivating.  He said "You have to take steps, so I thought, first learn to walk again, then get rid of the colostomy bag, then walk to the North Pole".  Wow.
We all need to take steps forward, and never be satisfied with the status quo.