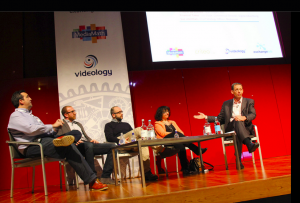 In a dark hallway, I mean with no lights at all, waiting to go on stage at the IAB conference on RTA, I found myself being fitted for a mike in close proximity to Financial Times Commercial Director, Digital Advertising , Jon Slade.  He charmingly turned his back while my mike cord was threaded through my clothes, after all we had only just met, and the FT is a publication for gentlemen.
We were assembling for the Viewability Debate at this year's Real Time Advertising get together.  The sub title "Make the most of it" said it all.  A change, a revolution in media thinking is upon us.  Not everyone yet is exploiting the real possibilities of getting really up close and personal with your prospective customer that it offers.
Caroline Kinsman from Waitrose.com does seem to be doing so.  Her case study sounded a great example of applying traditional DR test and learn principles across the whole life cycle of attracting and keeping customers.  She described a programme that included reach based offline media to prospect for customers, synchronised on line messages to exploit second screen and retargeting with relevant copy for those who shopped once, and those who didn't sign up.
This use of media specifically to get close and personal with the customer was something that was once only a theory delivered in abstract.  John Grant predicted the trend in his fine book "The new marketing manifesto" as long ago as 2000.  The examples he gave were ideas.  They were concepts.  The reality now is that RTA gives us breathtaking opportunities to deliver those ideas.
What of Viewability, the debate that I was part of the panel of ?
I think many in the audience were shocked by the facts that emerged on this issue.  I'll sum up with a comment from MediaCom's head of digital investment Tim Lawrence : "Viewability is a really hot topic at present in digital – the ability to track whether an online ad is being viewed by the user on screen is now available-  and if you hear that only '30% of online ads are seen' and that you shouldn't pay for anything that isn't viewed then you can understand the push for a greater emphasis."
One of the issues involved is simply someone not seeing an online ad because it's below the "fold" or minimised.  In this the medium is suffering from no greater a problem than traditional media.  I suggested to the FT that Viewability standards proposed by the IAB could make the ads online have better viewability standards than the paper edition has where audience measurement is according to the NRS standard, surely a great advantage for the medium as far as accountability is concerned.
The standard proposed by the IAB is that a view is 50% of the ad seen for at least 1 second.  Whilst progress this does seem rather light and more importantly doesn't match the standard set for a viewer by BARB (3 seconds).  It is a pity that once again the industry is missing an opportunity to set comparable audience standards between media.
It will however help the situation and can be used as a brief for creative work (get the logo and strap line in early (the creative agency will truly love that!)).
The more worrying aspect of Viewability is fraud.  Around 13% of views are not human according to this report from AdSafe.
And the bots that view the ads also click through to make a mockery of pay per click.
This is not and should not be seen as the Wild West and sellers of views online must shun the practices of snake oil salesmen even if there is short term uplift from soft standards of course.  RTA offers unprecedented opportunities for reaching prospects up close and personal.  The more stringent and more rigorous the audience metrics are, the better for the fortunes of the industry.