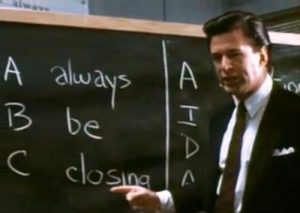 Nobody wants to work in the high pressure sales environment featured in David Mamet's movie, but it is really clear from our Mobile conference this week that Baldwin's mantra in Glenglarry Glen Ross  is good advice for every advertiser.
Mobile (by which I mean smartphones and tablets) changes everything.  As Nick Cohen, our head of MBA, announced it is "the most innovative space that we've ever had – it is truly revolutionary".
Why is it so different?
Partly as Nick went on to explain, because it's the most personal medium we have.  Not only does it fit in your pocket and handbag, (so can a newspaper, or magazine I hear you mutter) but it contains your personal photos, memories and contacts.  Phones are big as top objects you would save from a burning building.
The other extraordinary characteristic of mobile is what it turns every other medium into.  It makes everything a point of sale.
And this device makes buying stuff with your mobile even easier.  It is sweeping the US and is one development our own innovative and revolutionary head of mobile Stefan Bardega says is essential to get to grips with right now.
Forget the classic customer journey from disinterest through awareness and warmth to purchase and advocacy.  Imagine instead a purchase corridor with a myriad of doors leading from it.  At any point the customer may choose to go through the door to purchase.  We must ensure that every one of those doors is unlocked and well signposted, and that the customer can buy when and how they want to.
Forget brand engagement as your campaign objective. Don't run a big brand warmth campaign without a path to purchase.  Ensure the data measurement is in place to measure everything.  Make sure you can seal the deal.  Always be closing.