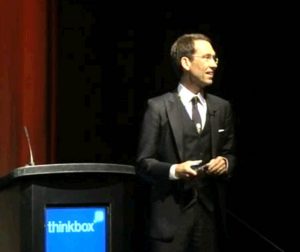 The Thinkbox conference last week was a riot of sacred cow shooting.
Professor Byron Sharp from the Ehrenberg-Bass Institute of South Australia took aim at segmentation noting that for big brands it is not only unnecessary but potentially harmful.  He called talking to loyalists "marketing in retreat" and as Maisie McCabe explains here views Facebook as irrelevant for reach.
The professor was followed on stage by Martin Weigal Head of Planning at W+K Amsterdam who gave us his frank and unfavourable views on "engagement planning".  I happen to agree that emphasising engagement tends to mean shifting away from selling products.  Weigal said that when it comes to outcomes "Deeper does not equal better" citing Heath's work on low involvement processing.   Weigal went on to say that the vague use of "engagement" is simply "metaphor run amok".
The panel that followed saw speaker after speaker grind the art of segmentation into the dust.
Let's hope that the time saved on running irrelevant correspondence analyses can be better spent in our core (collective) task of growing the sales of brands.