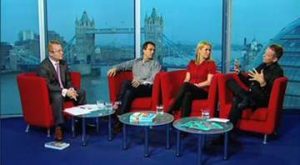 Which wagon now you're asking yourself.  The truth wagon.  Martin Lindstrom, author of Brandwashed and Buyology, says that telling the truth to the consumer is the only real way forward in the current age.
I of course agree with him in this respect (Tell the Truth – Honesty is your most powerful marketing tool is my book with co-author marketing consultant Jonathan Salem Baskin out this spring http://www.amazon.com/Tell-Truth-Honesty-Powerful-Marketing/dp/1936661462/ref=sr_1_1?ie=UTF8&qid=1328610166&sr=8-1)
Lindstrom was speaking to Charlie Crowe CEO of C-Squared.  He was on a panel earlier this month with MediaCom's  Head of Strategy and Freshness EMEA, Matthew Mee and Tiffany Bissey, Head of Global Digital and Emerging Media at Dell.
You can watch them debate at http://www.mediacom.com/en/news–insights/the-insider/webcast/live-stream.aspx.
The panel urged marketers and their agencies to take action now to ensure that their communication strategies acknowledge that the consumer is more connected than ever – to each other, to sources of information and expertise, and of course to price comparisons.
With rumours abounding that some retailers are proposing blocking mobile signals inside their own stores in order to suppress the ability of consumers to check relative prices using their mobiles, it is increasingly clear that in this time of the empowered consumer if you don't have a plan to deal with the new realities then you don't have a plan.