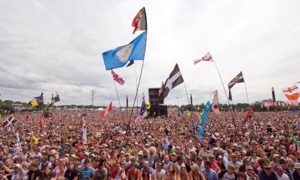 The line-up for the Capital Radio Summer Time Ball has just been announced, to considerable excitement amongst some people I know. Wireless is in the diary, and we've got tickets too for Feis this year. (Formerly known as Fleadh I have no idea how you pronounce either, but its in Finsbury Park, handy for the 29 bus). I might see you there, or at something anyway. Attendance at live music events is on the up and up (by over a third between 2005 and 2009 according to our research team).
At Hop Farm last year the demographic of attendees was apparently very broad. We picnicked at one point near to a family who'd brought a baby and a grandma with them. Whilst this festival in particular is broad in appeal for a number of reasons, live music is by no means as demographically limited as it used to be. Like the growth in watching event TV live there is a basic human drive to participate in emotional or at least sentimental feelings together which was given an enormous outing on April 29th  (which must have seen a spike in sales of Kleenex as well as sales of champagne.)
Being associated with a live event is full of difficulty for brands. A live event gets you in front of only thousands rather than millions. It can be much more  time consuming to organise properly. Can you cut through the clutter of other sponsors? Can you be of practical use on the day ? If you try too hard it's easy to come across as the classic disco dancing dad – thinking that you're down with the kids when in fact you're being mocked or being ignored. 
If you can be part of the event in the right way however you can be unforgettable. Watching an arena full of teenagers playing along with the Cadbury eyebrow advert in a Guinness World Record at the Capital Jingle Bell Ball was a moment I won't easily forget. Or hearing them chanting Windows 7 over and over again.
The effect on the thousands that you've reached live could be the tipping point that's worth all the effort it takes to get it right.