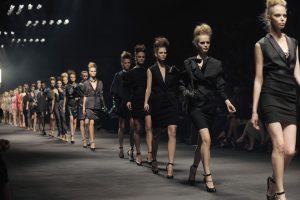 "Friendly is the new cool"
Journalist Jess Cartner-Morley is talking about Fashion.
"Smiling is the new pouting, friendly the new cool and softly-softly the new sell."
She calls Instagram the new heart of fashion, replacing the catwalks of London, Milan and New York.  She comments that to shine on Instagram a fashion brand needs to be friendly, approachable and above all authentic.
This is not just true of fashion brands.  It is not just true of the catwalk.  What's more if it is true on the catwalk just think how much more it applies in the supermarket, on Amazon and on the high street to all kinds of category of brands.  If you're not Westwood or McQueen you have an even greater need to express authenticity and approachability.  Not just through brand essence and tone of voice, not just in advertising, but above all in media strategy.
(I'm not suggesting every advertiser has to be on Instagram – it is early days yet, but it must be on the consideration list).
Aloof and cool were extremely desirable once.  Now friendly and approachable have replaced these criteria.  How can you warm up your media?
It might mean a role for micro-local communications.  One voice nationally may not work in the brand's best interest.  Consider regional voices for radio across the UK, featuring local employees in regional papers or referencing specific statistics, streets and boroughs in outdoor executions (as MediaCom did for the Met Police's highly effective confidence campaign).
How's your approachability?  Whilst it is still true that there are far more people watching brand/consumer interaction than joining in, it is an important signal of how friendly and agile your brand is.
How's your tone of voice?  There's a finished perfection to most brand communications that does not necessarily play to enhancing approachability.  It isn't numbers of tweets/posts that count it is their tone of voice and share-ability.  A catalogue of product suggestions is a catalogue whether you print it and door drop it or whether you cut and paste it into a series of tweets and posts.  I've just scanned one food related brand's last dozen posts.  Ten are recipes, two are offers.  Consistency is a fine thing, but come on Brand X – mix it up a bit – I'd never get out of the kitchen if I listened to you, and a spot of funny wouldn't go amiss.
How much can your brand support potential customers? Is the brand purely out to show glamour with top models or could it encourage the potential in all of us?
So have an element of the campaign that specifically flatters the buyer as opposed to just amplifying a celebrity's endorsement.  Any sport brand can buy top level athletes' endorsements if it has deep pockets.  The brilliance of Nike is that it also speaks to the athlete in you, me, everyone, invites us all to run.
To be friendly you must act as a friend would, not just hide behind the spin of idealized friendliness – that really isn't cool anymore.
Welcome to the age of Friendly.
For more on authenticity in media strategies see Sue's book "Tell the Truth, honesty is your most powerful marketing tool", available on special offer on Amazon now.