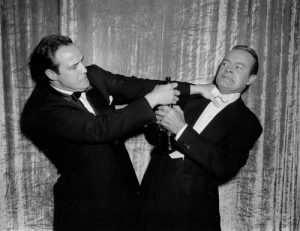 I've been judging awards recently : Media Week and APG.  And later on this month it's the Newsworks awards (still time to enter).  It is always a privilege to be a judge.  Great to hear about the best thinking of the industry.
What does it take to win an award?  Russell Davies (who has probably won more awards than I have had hot dinners) gives a good rundown here .
There's one more factor.
One of the presenters at the APG awards where they still do live presentations of the short listed entries, said something that stuck with me.  Ross Berthinussen from BBH said : "planning needs to inspire not just the idea but also the bravery to make it happen."
I like this very much.  We sometimes can ignore that it takes great bravery to create work that differs from the norm and really stands out.  Work that we can learn from. Work that is both brilliant in the thinking and accountable in the execution.   It also takes great bravery to enter that work for an award.
Not every planner in every agency will enter an award this year.  Perhaps if they did the awards themselves would be overrun to an unmanageable extent.  So perhaps it's a good thing that only a few planners bother to do so.  A good thing for the logistics of the awards organisers perhaps. (Although I'm sure that they could cope).  Not a good thing for the industry and not a good thing for personal development.  I think that every planner should be entering an award.  Or should be asking themselves why they haven't got an award to enter.
Bravery.  Bravery to create a difference in the work in the first place with an idea lodged in media and consumer insight.  Bravery, as Ross said, in making it happen.  And bravery to take your thinking, commit it to paper, and expose yourself to the scrutiny of the judges.
If you don't enter, you won't win.  If you win, you have a short cut to making yourself noticed – which is a better route to the top than networking or politicking (as Dave Trott points out in his advice to a younger self).  Go ahead, take the plunge, make the judges care about your work.