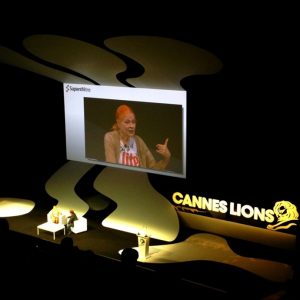 The unexpected highlight of last month at Cannes for me was Vivienne Westwood.  I was reviewing the winning work from Monday night on Tuesday morning to prepare for a curation of the best bits when I realised that WW was in the house courtesy of Sapient Nitro.
She brought the house down.  Partly due to her frankness and partly due to her spiky yet charming dismissal of any questions she didn't want to answer. 
For example when asked what had inspired her to start her own business she didn't hesitate to reply that she done it because her boyfriend needed money. 
This is less inspirational and more pragmatic.  She did come to inspire the audience though and set out to ask everyone to resist instant gratification and being "stuck in the present" with no historical perspective.
Westwood wants us all to stop and think about our culture, about "the pursuit of our perfection".  According to Westwood we all have an inner "best self" and this, not authority figures nor celebrities, nor conforming to the norm should be the one to guide us. 
It's a great thought.  We all indeed know the difference between our best self and our ordinary self.  The former can rise above our prejudices and look at the bigger, best, picture.
Look to your best self for your next decision.  Ask "what would best (insert your name here) do?"